Bas Mooy in Melbourne for the first time!
The mighty Bas Mooy makes his first ever appearance in Melbourne and well we are just a little bit excited. This guy is a TECHNO powerhouse and we can't wait to see what he does on that Funktion One rig at My Aeon.
The party will be the second birthday for the Silo production crew, they have done some fucking great parties here in Melbourne and they have come up with the goods to celebrate their 2nd year.
Here is Silo's press right up for the party. Have a read and find out all you need to know.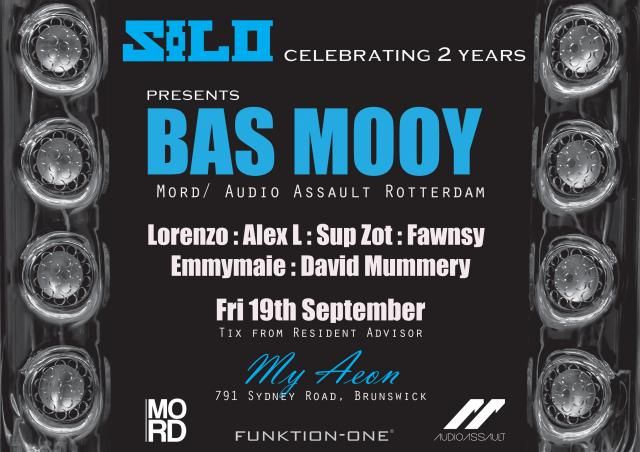 To celebrate our second birthday we're extremely proud to announce that the mighty Bas Mooy will be on hand to showcase his unique dark driving sound.
Incidentally, as you maybe aware we at Silo tend to try and bring over acts / artists that are new to these shores and this is indeed the case with Bas. So I'm sure we will give him a warm welcome on his debut.
The Rotterdam based DJ and producer has been at the forefront of the European techno scene since 1999 working hard producing and promoting a sound heavily influenced by a city that breathes industrial strength twenty four seven.
In 2002 he kickstarted the already legendary Audio Assault record label with label partner Jeroen Liebregts (aka Radial) this resulted in the the birth of sub label Arms a year later. Since then Audio Assault has pushed out an impressive and constant catalogue of outstanding twelves, thus being the benchmark for todays dark quality techno.
For many years Bas has been a member of the Rotterdam underground collective, 'Strictly Techno', creators of over a hundred legendary parties since 1996. As well appearing at various festivals around the globe, Bas is of course a regular at the highly respected 'Awakenings' parties in Holland. In between engagements this devoted producer spends many hours in the studio putting out music for respected labels, Mote Evolver, Perc Trax, Gynoid, Sleaze Records, Planet Rhythm and of course his own imprints Audio Assault and MORD.
On that rather impressive note we invite you to come and join us for what promises to be a rather enjoyable engagement.
Support
Lorenzo(Billion Underground) : Alex L : Sup Zot : Fawnsy
Emmymaie : David Mummery
We here at MTC, think you should come and check this party out. It's going to be a fucking great night out.